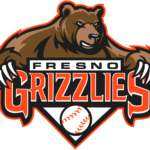 Modesto @ Fresno Gm 4
The Fresno Grizzlies need a clean sweep over the weekend to qualify for the California League playoffs and step one of the three-part plan went well on Friday night. Aidan Longwell doubled in a run in the bottom of the eighth inning to break a 2-2 tie and the Grizzlies finished it off for a 3-2 win over Modesto. The Nuts saw their 16-game winning streak end and their North division lead cut to two games with two to play.
Facing elimination, the Grizzlies struck first on an RBI single by Jake Snider in the second inning. Snider drew a bases-loaded walk in the third to put Fresno up 2-0.
The Nuts tied it up on the fourth on Lazaro Montes' seventh home run of the season, a two-run shot. That was it for Modesto's scoring and Longwell's double in the eighth was the margin of victory for Fresno.
Caleb Franzen started for the Grizzlies and went five innings, allowing both Modesto runs on four hits with no walks and four strikeouts. Zach Agnos (W, 5-3) shut out the Nuts over the last two innings on one hit, no walks and two strikeouts.
PLAYOFF PICTURE
San Jose won the North division in the first half and Rancho Cucamonga won the South, so both are already in. Neither will repeat in the second half so the remaining two playoff spots will go to the second half division winners. Inland Empire already clinched the South so the last remaining spot goes to the North division second half winner. Fresno (41-23) trails Modesto (42-22) by a game with two to play, leaving no margin for error. The Grizzlies must win Saturday and Sunday finish a game ahead and claim the last spot.
FRIDAY SCORES
VISALIA – 5
RANCHO CUCAMONGA -6
Box
Story
LAKE ELSINORE – 7
INLAND EMPIRE – 3
Box