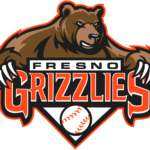 Modesto @ Fresno Gm 4
The Fresno Grizzlies need a clean sweep over the weekend to qualify for the California League playoffs and step one of the three-part plan went well on Friday night. Aidan Longwell doubled in a run in the bottom of the eighth inning to break a 2-2 tie and the Grizzlies finished it off for a 3-2 win over Modesto. The Nuts saw their 16-game winning streak end and their North division lead cut to two games with two to play.
Facing elimination, the Grizzlies struck first on an RBI single by Jake Snider in the second inning. Snider drew a bases-loaded walk in the third to put Fresno up 2-0.