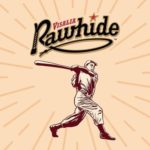 Stockton @ Visalia Gm 5
The Visalia Rawhide stretched their winning streak to four games with an action-packed 9-8 victory over the Stockton Ports on Saturday night at Valley Strong Ballpark. Gavin Logan doubled and homered, one of four Rawhide batters with multi-hit games as the club rapped out 14 hits.
The starting pitcher matchup pitted two highly touted prospects but neither saw the end of the third inning and the offenses ran wild from the first inning. Landon Sims started for Visalia and gave up a first-inning run and left after a scoreless second inning having thrown 43 pitches, 24 for strikes.